Emmanuel Williams Covid Recovery
From Emmanuel Elliot's "Reminders of Reality" Newsletter:
Emmanuel Williams writes: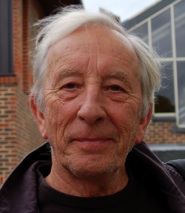 "I tested positive for Covid on November 25. As an 82 year-old with ongoing health issues I was vulnerable, even though we live in an isolated rural community. Fortunately my symptoms, while unpleasant, were relatively mild: low energy, a blurring of mental focusing, some breathlessness head pain; a dragdown in the feelings. As far as I know it's over, although some symptoms will persist for a while.
"When Covid arrived I was working on three books – an anthology of poetry by Zoomuse poets, a book of riddles for music lovers, and an autobiographical book entitled "An Old Man Talking to God." Fortunately I was given the help I needed and these projects are almost done.
"I kept taking Vit D and Zinc, and – since the weather has been warm – spent hours sitting in the sun reading Sofyan Brugger's new book of Bapak talks, and watching oak leaves spinning in the mountain winds.
"I was born before the Second World War and witnessed widespread pain and destruction from early on. What I also sensed was a strength of community, of "We're all in this together." The bombers that roared through the night sky above me were flown by humans, so humans were bad. But people reached out to help and support one another, so humans were good.
"The virus that  entered my body, the virus that has killed huge numbers of people – this is not a human agent, although it's possible that our collective actions caused it. Certainly our ways of dealing with it, at least here in America, have demonstrated both a moving human response to suffering AND an appalling lack of empathy and active concern.
"This pandemic may be part of what Bapak foresaw – a period of great human suffering followed by a Golden Age. I've had my taste of the suffering – even in its mild form Covid is pretty awful. As for the Golden Age, well, I guess that's up to God. And, of course, us."
I guess this can be regarded as a Christmas edition of Reminders of Reality, and I wish everyone the joys and blessings of this special time. There are no further contributions to hand, so I plan to see out 2020 in two weeks time with a collection of Bapak's insights into the future of mankind, assembled by the late lamented Ilaina Lennard.
Love and blessings,
Emmanuel Williams
See Emmanuel's Zoomuse performance here: